Farmers' Markets
Building Capacity and the Local Food System Via Farmers' Market Trainings
Our team works with all farmers' markets in the region to assist with starting/strengthening SNAP at the market programs by promoting farmers' markets to SNAP clients, arranging field trips and market tours, providing cooking demonstrations and incentives for SNAP shoppers. In addition to SNAP @ the Market, we also offer a Farmers' Market Vendor Training series in the fall and spring that provides education to farmers' market vendors on topics that will build capacity and ultimately bolster the local food system.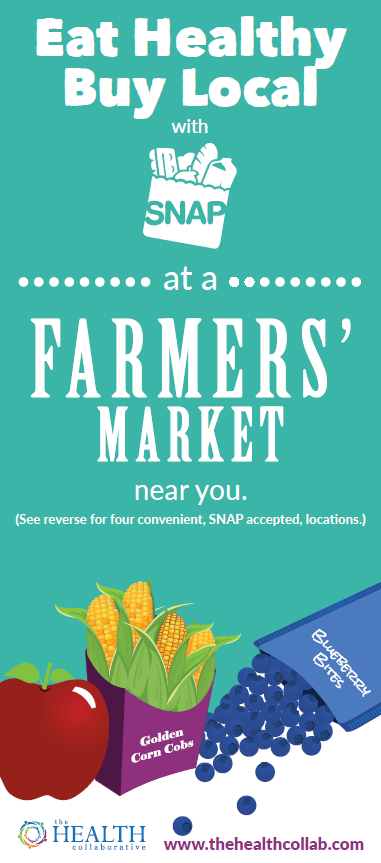 Danville Farmers' Market
Danville Community Market
629 Craghead Street, Danville ,VA 24541
434-797-8961
Website
Market Hours
Saturdays (May – October)—7:30 am to 12 noon
Wednesdays (July- August) – 3 pm to 6 pm
Accepts SNAP/ EBT, WIC, SFMNP | Double Bucks
Virginia Grown Farmers' Market
19783 US Hwy 29 South, Chatham, VA 24531
434-713-1932
Website
Market Hours
Saturdays (May - October) 7:30 am to 12 noon
Accepts SNAP/ EBT
Caswell Farmers' Market
2246 NC Highway 86 N. Yanceyville, NC 27379
336-337-3306
Website
Market Hours
Thursdays (April 23rd-August27th) 4:00 pm - 6:30 pm
PoP Club for Kids - kids who try featured produce will receive $5 to spend at the market on healthy produce
Support your local Farmers' Market - Volunteer Opportunities
Our markets need help with bag carry assistance programs, customer counts, cooking demonstrations , youth programming and more.
Volunteer at a Farmers' Market Donation Station
Donation Stations allow market customers to buy extra food for those in need. To volunteer at the Donation Station at the Danville and Virginia Grown Farmers' Markets, contact Emily Holder at emily@godsstorehouse.org or 434-793-3663.