Health Summit Series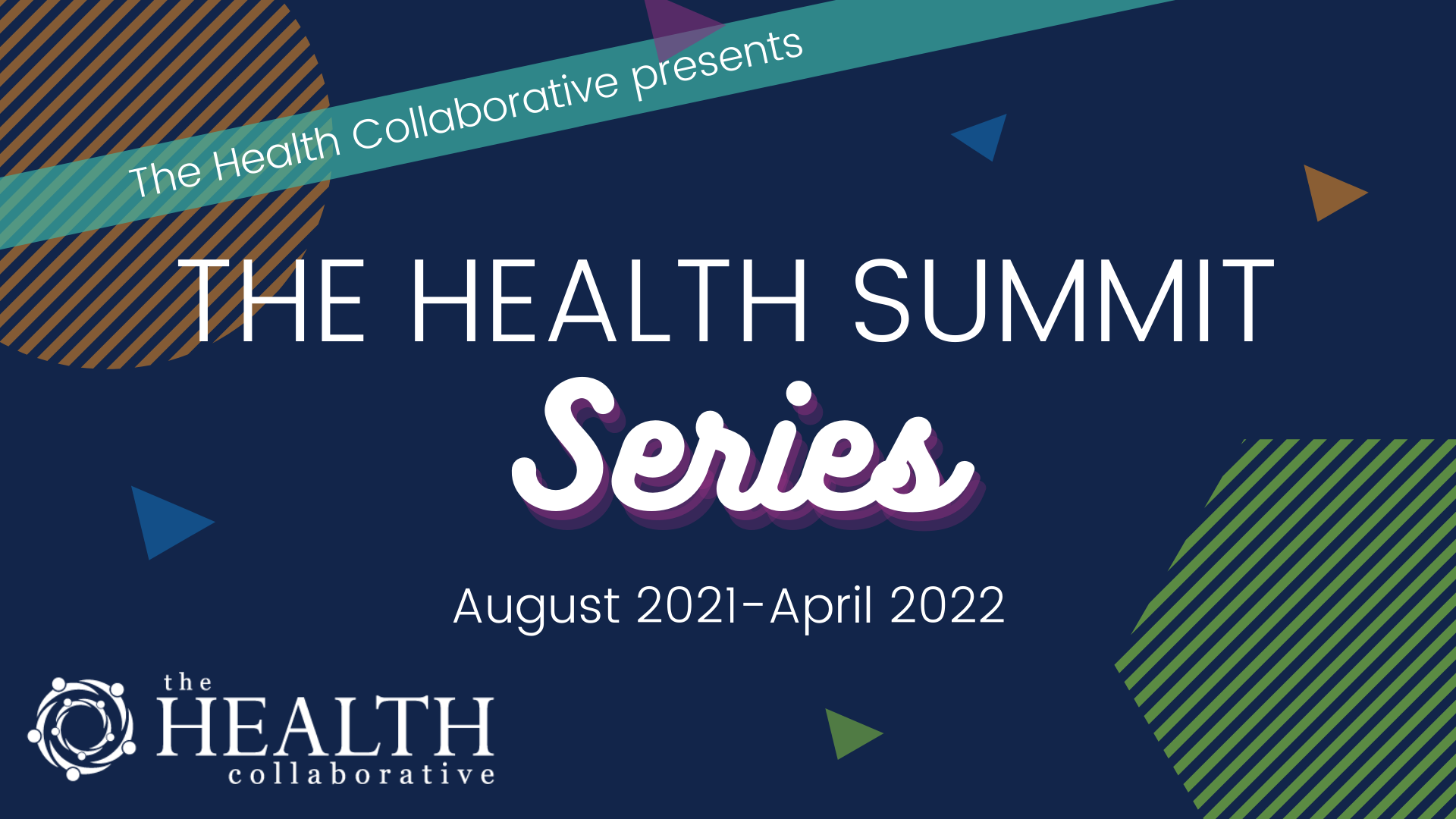 With too much good content to share in one day, we are presenting this year's Health Summit as an eight-part learning series.
Join us as we explore this year's theme: Zoom Out - A Systems Approach to Health, Equity & Community Change
During each of these sessions, we will rethink traditional approaches to health and community development and explore new strategies for engaging communities, working collaboratively, and changing policy in ways that center equity and create sustainable impact. By zooming out, we will better understand how individual programs interact with broader systems and where to direct our collaborative efforts to create the most effective changes.
This series was developed with feedback from the 2020 Health Summit when participants identified topics in which they were most interested in learning more, including racism as a public health crisis, authentic community engagement, and the intersection between health, education, and economic development.
Series Schedule

August 2021
Series Kick Off: Collaboration and Systems Change | Watch the recording
We will be joined by Robert David, Youth Gang and Violence Prevention Coordinator, who has spent the last several years working in the Danville community to build relationships and initiatives that help meet the needs of the community with a larger focus on collaboration and systems change. This opening session will ground us in systems thinking by helping us zoom out and identify the ways that all of our work connects across sectors.
October 2021
Recognizing Racism as a Public Health Crisis | October 20th - Watch the recording
Join us for our next session of the Health Summit Series as we learn about Racism as a Public Health Crisis. This discussion will be led by Dr. Kent Key, our Keynote speaker from last year's Health Summit, who will help us dive deeper into the intersection of racism and public health. Dr. Key will share his own experience working with community leaders in Flint, Michigan to demonstrate the significance of making this declaration and why it is an important first step in building healthy, equitable, and just communities. He will also describe how his community is operationalizing their resolution and taking action to improve health equity and social justice.
Learn more about Dr. Key here!
Want to be involved in addressing racism as a public health crisis in the Dan River Region? Join the Social Equity Network.
November 2021
Principles of Authentic Community Engagement: Building Trust to Promote Community Health | Watch the recording
In this session, we will learn why building trust is essential for promoting community health. And to make any meaningful changes in community-level health, we have to move at the speed of trust. The panel discussion will feature several local representatives of the healthcare sector who are working to build relationships and trust at both the individual and institutional levels.
Speakers include:
Shani Gaylord, Director of Community Programs at PATHS
John Kent, CFO of SOVAH Health
Leslie Sturdivant, SOVAH Health
Principles of Authentic Community Engagement: Centering Equity | Watch the recording

In this session, we will continue to explore the principles of authentic community engagement, this time diving deeper into equity and how traditional engagement practices often create inequitable outcomes. We will also discuss methods for intentionally centering equity in our engagement processes.
Speakers include:
Danielle Montague, Health and Wellness Coordinator for Danville Parks and Recreation & Equity Lead for The Health Collaborative
Nik Belanger, Organizing Director for Virginia Organizing

2021 Health Equity Report Presentation | Watch the recording
In this session of the Health Summit Series, we will present the findings from the 2021 Health Equity Report! After more than a year of engaging our communities and collecting data, our research partners at UNCG's Center for Housing and Community Studies have nearly completed their comprehensive analysis of the state of health and health equity in the Dan River Region. They will share key maps and data as well as common themes from local interviews, focus groups, and surveys – all providing critical insight into the many factors that influence our community's health.
The information in this report covers a broad range of data and metrics including health outcomes, economic conditions, educational attainment, built environment, poverty, and the distribution of opportunities – relevant to anyone living or working in this region. The presentation will be followed by a discussion on how we can use this data to guide our collaborative work going forward.
Speakers include:
Dr. Stephen Sills, CHCS Director
Bruce Rich, MPA, Project Director
Meredith DiMattina, GISP, GIS Analyst
January 2022
Principles of Authentic Community Engagement - Inclusive Methods of Community Outreach | January 19th - 12 to 1:30 pm
The next session of the Health Summit Series will continue to highlight the principles of authentic community engagement, this time with a special focus on community outreach. To create real community change, we need to include as many people as possible in the process. However, rural isolation, language and cultural barriers, historical distrust, and the impacts of the COVID-19 pandemic continue to make outreach especially difficult. In this session, we will hear from community leaders who have developed creative approaches to make sure all residents are meaningfully included in their efforts.
Speakers include:
Billy Wooten, Director of Averett University's Center for Community Engagement and Career Competitiveness
Cori Lindsay, Director of Economic Development for Caswell County
Rhonda Griffin, Director of Gunn Memorial Library, Yanceyville, NC
March 2022
Principles of Authentic Community Engagement: Using Data | March 30th - 10 to 11 am
April 2022
What's Next? Connecting and Taking Action | April 20th
More details and registration information will be added closer to the date of each session.
Event Accessibility Information
*If you are a person with a disability and desire any assistive devices, services or other accommodations to participate in this activity, please contact Maggie Richardson, Central District Office at 434-766-6761 during business hours of 8 a.m. and 5 p.m. to discuss accommodations at least 5 days prior to the event. *TDD number is (800) 828-1120.
**Virginia Cooperative Extension is a partnership of Virginia Tech, Virginia State University, the U.S. Department of Agriculture, and local governments. Its programs and employment are open to all, regardless of age, color, disability, gender, gender identity, gender expression, national origin, political affiliation, race, religion, sexual orientation, genetic information, military status, or any other basis protected by law.